About ProduceIT
Meet some of the people who make up ProduceIT
Jacob Zhivov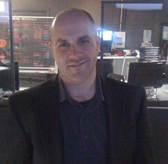 Jacob graduated from Monash University with a Bachelor of Information Management and Systems (with Honours) and since then has worked in several areas of the Information Technology industry, including systems development, graphic design and tech support.
In 2002, Jacob started working in the Film and Televison industry taking his unique understanding of Information Technology and merged it with his experience and understanding of story telling and production to create realistic interactive graphics.
In 2009, Jacob combined his skills from working in the Tertiary education system as well those skills from the Film and Televison industry and combined them to begin creating his unique style of online and blended learning solutions.
This combination of skills and vision has been the success of ProduceIT, and is why ProduceIT is the choice for many organisations solutions.